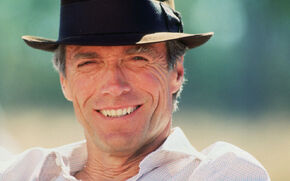 This page will tell you about a legend of the 1870s, Jerry Baines (played by Clint Eastwood).
Born: November 18th 1825
Died: July 17th 1890 (aged 75) 
Occupation: Owner and cashier of the General Store (1880- 1890)   
Jerry Baines (1825-1890) was born in Colorado to a wood cutter and a milkmaid. As a child, Jerry dreamt of being a fearless do-gooder who never gave his name to anyone. This dream would become a reality when a 18 year old Jerry saw his parents gunned down a deranged member of the Bollard Twins Gang: Michael Reese Sr. Reese Sr vanished after that, but a hell-bent Jerry vowed to find him.
After clearing out over 50 gang hideouts, Jerry found Reese Sr and defeated him in a duel. In the duel, Jerry put 2 bullets in his back, 1 for his father and 1 for his mother.
After some time, a 60 year old Jerry purchased the General Store in Mallory's Ranch which he owned until his death in 1890.
On the moring of 23rd November, Jerry opened up the Store which was stormed and ransacked by none other than the Bollard Twins Gang.
Community content is available under
CC-BY-SA
unless otherwise noted.