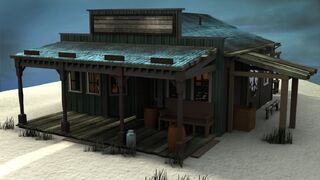 This page will tell you about the General Store owned by many.
Statistics
Edit
Opening Date: 24th September 1800
Closing Date: 22nd August 1930
Address: Mallory Ranch, Denver, Colorado
First Owner: Karl Vanderbilt
Last Owner: Johnny Mallory
Opened in 1800, the Store was first owned by a German entrepreneur named Karl Vanderbilt; after 2 years of ownership, Karl was diagnosed with schizophrenia an he tried to burn down the Store, but he failed leaving only a shattered window and a charred bit of the red woodwork. Afterwards, the Store was closed down for a month and then bought and repaired by James Benson, a fired train conducter looking for work. James owned the store for 3 years before he died of a heart attack inside the store in.The store was closed down yet again and it was bought and refurbished by Amos, a man who worked with Karl Vanderbilt. Amos owned the store for 10 years until he retired, put the store up for sale and left Colorado.
After Amos' retirement, the store was closed for the third time until Frances Moon bought it and repainted it black on the front. Frances owned the store for 25 years until she was killed by the Bollard Twins Gang. The store was closed for 45 years until Jerry Baines bought the store for $38.000 and he painted it green and white on the front and green on the roof. Jerry Baines owned the store for 6 years until he was killed in the store by the Bollard Twins.
Then, Johnny Mallory inherited the store from Jerry and he owned it for a day until he was killed by the Bollard Twins. After this, it was set on fire and the ranch declared that no more people were authorised to buy the store and it was decorated with the American flag in 1900 to celebrate its 100th birthday. The store remained empty until it was demolished in 1930. 
Haunted?  
Edit
After the death of James Benson, rumours about the haunting of the store began spreading. The rumours actually inspired a short story published by James' son which was published soon after the store closed.
The rumours started up again following the death of Jerry Baines.
List of owners
Edit
Karl Vanderbilt (1800-1802)
James Benson (1802-1805)
Amos (1805-1815)
Frances Moon (1815-1840)
Jerry Baines (1885-1891)
Johnny Mallory (1891)
CLOSED (1891-1930)
DEMOLISHED (1930)
Frances Moon owned the store for the longest, while Johnny Mallory owned it for the shortest.
Frances Moon was the only female to own the store in its 100 year history.
Key Events
Edit
Karl Vanderbilt tried to burn down the store.
James Benson dies in the store.
Jerry Baines dies in the store.
The store is burned down.
The store has an American flag banner attached for its 100th birthday.
The store is demolished.
Community content is available under
CC-BY-SA
unless otherwise noted.